Forty Poems for Dylan Thomas by Roger Stennett

This unique collection of poetry reflects on the life, work and legacy of Dylan Thomas. From the Young Dog in his innocence, to his haunting final hours, it attempts to encompass the multitudes of this sometimes flawed, often contradictory, always visionary figure.

Interwoven with this portrait is the figure of Roger Stennett himself: a reader of Thomas since boyhood, and a writer who, like all later Welsh poets, has spent his career navigating the legacy and influence of his forebears' 'Craft or Sullen Art'.

Masterfully combining biographical and confessional subjects, and lyric and narrative forms, this singular, ambitious and moving collection is a must for Thomas enthusiasts and general readers alike. 'A fitting tribute to its subject, and there's no higher praise than that.'
Geoff Haden, Chairman of the Dylan Thomas Society.




Listen to Roger discussing his book in this podcast.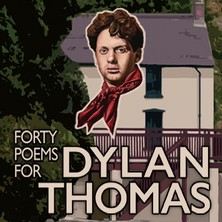 LISTEN TO THE SPOTIFY LIST