The Analysis Bureau by Tom Dexter
(A special Lethbridge-Stewart spin-off book for charity).


The Analysis Bureau does not exist. Ask any questions about it, and the same answers always greet you. There's no trace of any department matching that name in any branch of Government, only speculation and wild rumours.

At the beginning of the 1960s, some conspiracy theorists even started to claim that there was a village, once the home to an entire community, abandoned during the Second World War due to flooding. They said it's where experiments and tests are being carried out. Some even claim that the Analysis Bureau used the village as a base of operations, and that there were underground bunkers built way beneath the rural façade of cottages, shops and even a village green.

Of course, those who got anywhere near the truth disappeared just as quickly as the people who asked too many questions, because they were the ones who refused to believe that there was no such thing as the Analysis Bureau.



Raising Funds for Ukraine

Candy Jar Books is pleased to announce The Analysis Bureau written by Tom Dexter with profits going to the Disasters Emergency Committee Ukraine Appeal.


The book features appearances by Professor Travers (The Abominable Snowmen/The Web of Fear), Tobias Vaughn and Packer (The Invasion) and even a Quark from The Dominators. A team of new characters, operating anonymously for a high ranking government minister, investigate attempted alien incursions as a far greater, darker plot begins to unfurl around them.

Told over three short stories, The Analysis Bureau will also feature a previously lost Lethbridge-Stewart short story from Candy Jar.

Shaun Russell, Head of Publishing at Candy Jar says: "We previously published a book as part of our Lucy Wilson Mysteries series called Lockdown, which successfully raised funds for NHS charities. So the idea of doing it again, only this time to raise money for the Ukraine Appeal, seemed ideal and gives fans not only the chance to enjoy the stories, but also to help with a desperately urgent cause. I'm delighted to launch this title and utilise Candy Jar's publishing skills to try and help."

Tom Dexter, the author, says: "Shaun has been talking with me about trying to find a different strand of stories to use their licensed characters in, and the opportunity to bring their first book out and hopefully raise money for Ukraine was too good a cause to turn down."

The Analysis Bureau also sees the return of legendary artist Lee Sullivan to the worlds of Doctor Who, with his first cover art for Candy Jar Books and with more projects with him in development. Sullivan says: "I'm delighted to return to such familiar territory and for such an excellent cause."



02.9.22: THE ANALYSIS BUREAU HAS BEEN POSTED.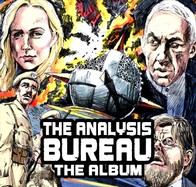 LISTEN TO THE ANALYSIS BUREAU PLAYLIST ON SPOTIFY