The Lethbridge-Stewart Short Story Collection

Brigadier Alistair Lethbridge-Stewart is back in a new collection showcasing the best talent from the South Wales Short Story Competition.

Whether he's facing a shadow from the future, a violent incident in Victorian London, a man with a red case, or a death of a good friend, the Brig remains the unflappable figure fans remember from Doctor Who's early days.

The Lethbridge-Stewart Short Story Collection features a series of self-contained adventures covering the Brigadier's childhood, his days as a military man, and his later years as a teacher.

Fully licensed by the Haisman estate, and featuring concepts and characters created by Mervyn Haisman and Henry Lincoln, the Lethbridge-Stewart Short Story Collection is a must for fans new and old.

Customers are advised that this book will be a limited edition release, only available to purchase directly from Candy Jar Books for £8.99 and with limited copies available.

WINNER ANNOUNCED!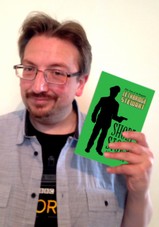 Candy Jar Books is pleased to announce the winner of the Lethbridge-Stewart Short Story Competition. The winning story, Boys Don't Cry, is written by Sean Alexander from Holyhead, north Wales.

Shaun Russell, head of publishing at Candy Jar, says: "Sean has written a touching and heartfelt short story. His take on the Brig was unique amongst the entries. His story is set at Brendon School where the Brig has to uncover the truth about an awful tragedy."


The book includes eight exclusive short stories featuring Alistair Lethbridge-Stewart at various stages in his life. This is a chance for fans to see the Brigadier like never seen him before!


The eight stories are:
The Stranger Paradox by Thomas Firth
Soldier in Time by Martin Gregory
Burning Daylight by Paul Chase
The Brigadier Rides Again by Ross Hastings
In Machina Exspiravit by Anthony Robertson
Special Responsibility by Gary Tinnams
Shadows in the Glen by Richard Brewer
The Man with the Red Case by Matthew Ball