Trecadno by Christine Davies

A fresh start. The smog of the city in the rear view, and in front the green green grass of Wales…

That's the idea anyway. But by the time John steps off the bus in his new home, the curtains are already twitching. The sleepy village of Trecadno doesn't get much fresh blood, let alone that most exotic of specimens… a Londoner.

Soon he finds himself on call to the whole community: there are classes to be taught, campaigns to be run, even coffins to be carried.

Still, it's not all bad. There's the attention of Trecadno's female population for one: a beautiful pharmacist, a flirty teacher… He could get used to this.

However, as John gets to grips with the quirks of his new home, he can't slip the suspicion that something isn't quite right. Someone, or something, is watching him from afar – and it's not just his landlady…

At once suspenseful and side-splitting, Trecadno rests on a minutely observed portrait of rural Welsh life, a portrayal as affectionate as it is playful.



LISTEN TO CHRISTINE ON RADIO CARDIFF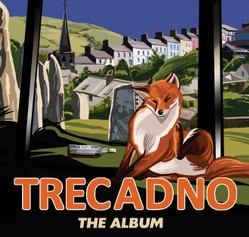 LISTEN TO THE SPOTIFY LIST