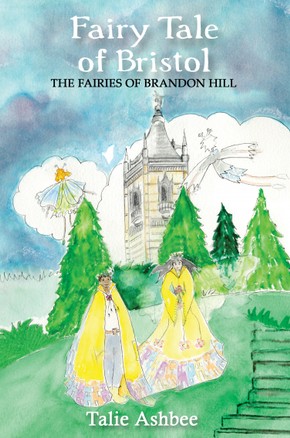 OCTOBER (3-7):
FAIRY TALE OF BRISTOL
By Talie Ashbee


Candy Jar is pleased to announce its twenty-fifth 'Book of the Month', Fairy Tale of Bristol – The Fairies of Brandon Hill.

Published with the help and support of Candy Jar's award-winning partner imprint Jelly Bean Books, this delightful book takes the reader on a magical journey around the historic city of Bristol.

Written by former primary school teacher, Talie Ashbee, the book introduces three children: Isabelle, Rose and Seth to the fairies of Brandon Hill. Talie says: "In 2014 I moved to Bristol and was keen to find out as much as I could about local history. I grew up on a Cornish farm and I must admit that moving to the big city was a little daunting. I needn't have worried; the people of Bristol were very accommodating, and I immediately fell in love with everything about it. I was particularly fascinated by the hidden secrets you find around every corner."

Talie, who works as a Horticultural Producer for BBC garden programmes such as Your Garden Made Perfect, Chelsea Flower Show and Gardeners' World, wrote the book during lockdown. She continues: "As a family we've always enjoyed visiting Brandon Hill, and on these visits I've been struck by how magical the place is. I'd always thought it would be a perfect location for a fairy HQ. So when lockdown kicked in, I thought why not put pen to paper. However, when I got started I realised there was a lot more to Bristol than originally thought."

Set in the twenty-first century Fairy Tale of Bristol – The Fairies of Brandon Hill collects together Talie's wonderful stories, alongside established myths and legends, and presents an enchanted story reminiscent of Five Children and It or The Famous Five.

Shaun Russell, head of publishing at Candy Jar, was thrilled to receive the submission from Talie. Shaun says: "I grew up in Bristol and like Talie I have always been fascinated by Bristol's history. Historically, the city is bursting with stories – some of it bad of course – but you cannot deny that pirates, highwayman, ghosts and giants are the perfect fuel to fire the imagination of young people. Talie captures this perfectly in her book. In fact, you may want to take it with you the next time you walk around the city."


To buy click here.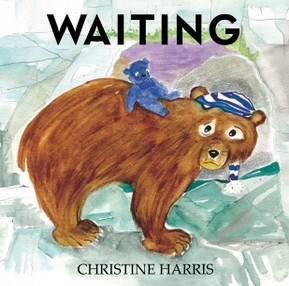 SEPTEMBER (3-7):
WAITING
By Christine Harris


Candy Jar is pleased to announce its twenty-fourth 'Book of the Month', Waiting by Christine Harris.

Published with the help and support of Candy Jar's award-winning partner imprint Jelly Bean Books, this charming story helps children understand the issues of global warming.

Christine Harris has always wanted to publish a children's picture book, and after completing illustrations for the Jelly Bean books I'm Just Norman and Fairy Tale of Bristol she now has time to focus on her own story. She says: "My story Waiting has been waiting in the wings for many years, but now with so much in the news about climate change I felt it was time to lift Bear and Rabbit out from the miscellany of notebooks and release them into a difficult world where, in particular, young people are calling for a better future."

According to Unicef: "Climate change puts children's most basic rights at risk, seriously affecting their access to health, food, water, clean air, education and protection. Around the world, the growing number of extreme weather events is putting more and more children's lives in danger. Every year, environmental factors take the lives of 1.7 million children under five."

Christine believes that Waiting is a perfect book to help parents tackle this subject, but she stresses that the story is not just doom and gloom. It also explores the importance of friendship and how we can all work together to get things done.

Head of publishing at Candy Jar, Shaun Russell, is really impressed by Christine's tenacity and obvious talents. He says: "I've worked with Christine three times now and her creativity blows me away. She is obviously passionate about storytelling and her timeless work is bound to capture the hearts and minds of young people across the UK, and hopefully beyond."

Christine Harris originates from the Welsh valleys, but now lives in the north of England. As a primary school teacher with forty years' experience, she has written and illustrated many stories shared with, and inspired by, working with children. She continues: "In the past I published two anthologies for six to eight year olds, but it wasn't until I retired that I started my new journey into publishing. I am a great fan of writers and illustrators such as Beatrix Potter, Arthur Rackham, Lewis Carroll, Charles Van Sandwyk and Helen Oxenbury. I just hope that my illustrations and stories capture twenty-first century children's imagination in much the same way as these did with me."

Christine feels that there is no better way to spark a child's interest or develop understanding than through a good story. So, no matter how young a child is, it is never too soon to encourage the next generation to look after our planet. Let us start with Rabbit and Bear.

A sign in Christine's studio at home says: 'I know I'm in my own little world but they know me here'.

"And that," says Christine, "is so true."


To buy a copy of Waiting contact her via Instagram @

christineharris_illustrator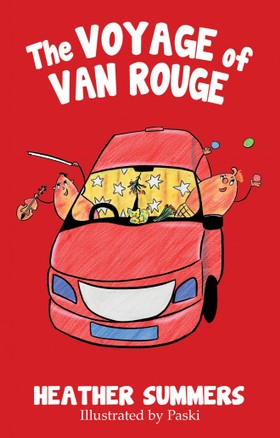 AUGUST (ALL):
THE VOYAGE OF VAN ROUGE
By Heather Summers


Candy Jar is pleased to announce its twenty-third 'Book of the Month', The Voyage of Van Rouge by Heather Summers.

Published with the help and support of Candy Jar's award-winning partner imprint Jelly Bean Books, this globetrotting adventure is the children's travel book that most adults will love.

The Voyage of Van Rouge draws on Heather's personal travel experiences. She believes that in current times, when travel is extremely difficult for most of us, her book is the best antidote. She says: "As a musician, who has travelled to many countries to perform, I wanted my book to reflect my lifestyle. My vegetable characters, Sweet P and Pumpkin, go on an exciting, hilarious and often calamitous road trip through many countries and ultimately end up in Greece. The story is based on many road trips and true adventures; we really did buy a clapped-out old camper van and travel thousands of foreign miles across Europe."

Sweet P and Pumpkin are based on fiddle player Heather and her long-time, clowning friend and former partner who gave the title to the book. In 2013, they bought an old camper van and named it Van Rouge, and after many adventurous road trips, they ended up on the Greek island of Lesvos where they performed.

Very quickly they fell in love with the island and purchased a 'ruin on a rock', and with a lot of love, care and hard work they turned it into their simple dream house. Heather remembers the day they set off in Van Rouge having bought the place. "We filled Van Rouge with awnings, chestnut poles, pallets, stove, washing machine, fridge and even a kitchen sink. There was very little room for us, but we squeezed in. Along the way we received several derisory comments. It's true Van Rouge was old and was held together with gaffer tape, but we loved her."

The Voyage of Van Rouge is a book for the Girl Power generation, designed to highlight entrenched attitudes about women and girls. The two main female characters are strong, and sometimes can be endearingly silly. Although the story is not overtly political, it is designed to appeal to a modern young audience with attitudes to match. Heather continues: "As performers, we want to be innovative, be it with music, clowning, or theatre. Our performances often involve tutus, cleaning brushes and feather dusters, with a great deal of laughter in the mix. We had so many good times on our many journeys; the essence of our adventures is in the book for children to read and hopefully feel inspired by."

The final trip in Van Rouge was October 2019, when she had to be low loaded the last thirty-five miles back home to Heather's West Wales valley, having crossed the Albanian and Swiss mountains. She never recovered but her parts are now doing good work in Ghana.

It has become much more difficult for Heather to spend time in Greece, the pandemic and Brexit having made a big impact, but as ever, with the spirit of adventure in her heart, she pursues her dream. Thousands of refugees have arrived in Lesvos since 2015. Heather concludes: "I have worked for some years with the migrants on the island, teaching them violin. I used to take violins in Van Rouge and give them away to any migrant who wanted me to teach them to play. Brexit has caused many difficulties but it does not stop us from enjoying our tiny home in Greece."

Heather is a linguist and lover of languages. As community music and arts tutor she has worked with children, mental health groups, women who have survived abuse, migrants, refugees, and many others. As a teenager she kept diaries and wrote poetry. As a performing musician she writes and perform songs and spoken word. As a grandparent she writes for children in the hope that they will follow their own dreams.


She will be having a launch weekend of readings and activities November 12/13/14 at book shop and story telling centre Nyth Yr Robyn in her home town of Llandysul. For details please contact: heathersummers@gmail.com

To buy a copy, visit voyageofvanrouge.com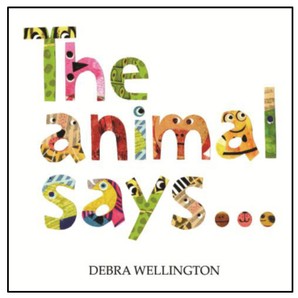 JULY (ALL):
THE ANIMAL SAYS...
By Debra Wellington


Candy Jar is pleased to announce its twenty-second 'Book of the Month', The Animal Says…

Published with the help and support of Candy Jar's award-winning partner imprint Jelly Bean Books, this delightful book brings the animal kingdom to life with interesting facts and glorious artwork for young readers.

Written and illustrated by Debra Wellington, The Animal Says… certainly would not have happened had it not been for lockdown. This gave Debra a chance to focus on her own art and ideas, something she'd not being able to do for years.

Debra says: "From a very early age I've always loved art and spending time being creative. On leaving college, where I studied graphic design, I bought my first flat, so needed a secure job to pay the bills. This job was in local government and I stayed there taking on a number of roles for almost thirty years. I never regretted this, as I had a good career, but there was always a yearning to do creative things, as this is what I really enjoyed."

Six years ago, Debra got a job as an activities coordinator in a care home, where she introduced art to the care home residents. The residents particularly enjoyed sessions where they used a variety of art mediums. She explains: "I noticed that painting and drawing was very relaxing for residents with dementia. It made them really focused and they produced some wonderful pieces of artwork, which they proudly displayed in the care home."

Soon after, Debra decided to become self employed and began running art sessions in care homes that encouraged the residents' creativity. She continues: "Making art together is sociable, and it has been so rewarding to see the residents gaining confidence with skills they never knew they had, and enjoying the experience of seeing each other's artwork."

Sadly, the COVID-19 pandemic brought this to an abrupt stop. Debra was no longer able to visit care homes to run these sessions. Instead, she decided to embrace her creative side, but being lockdown it was difficult to get hold of all the materials she needed. Instead she recycled paper and materials as much as I possible, painting over them, and cutting them up to create her designs.

She concludes: "I really enjoy colourful, quirky and whimsical designs which are fun to create. Someone told me that my style was similar to Eric Carle. I didn't know who Eric Carle was. I looked him up to discover that he's actually the writer and illustrator of The Very Hungry Caterpillar. What a fantastic compliment! And this got me thinking. Like Eric Carle, my artwork also depicts animals. First I thought the pictures would be great for nursery wall art, but then it occurred to me that it would make wonderful illustrations for a children's picture book, so I decided to contact someone about this."

Debra spoke to Shaun Russell at Jelly Bean Books about her artwork. Shaun says: "I absolutely loved the style. Debra's book works for all ages. Children love the fantastic facts and humorous artwork. Adults are touched a degree of nostalgia. Debra really understands pop art, something that many love to display in their house. The Animal Says… is a book destined to become a future classic."


For more information visit https://www.facebook.com/debrartdesign/
Buy it here.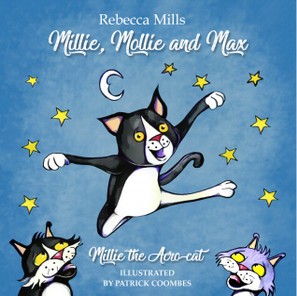 JUNE (3-7):
MILLIE, MOLLIE & MAX: MILLIE THE ACRO-CAT!
By Rebecca Mills
Illustrated by Patrick Coombes


Candy Jar is pleased to announce its twenty-first 'Book of the Month', Millie, Mollie and Max: The Acro-cat.

Published with the help and support of Candy Jar's award-winning partner imprint Jelly Bean Books, this book is about embracing your inner talents.

Millie the Acro-cat is the second book in the Millie, Mollie and Max series. It is written by Rebecca Mills. She says: "I initially created Millie Mollie and Max as a gift for my niece, who was three years old at the time. Her family had two cats, Mollie and Max, and my brother and sister-in-law wanted to adopt a third cat from the rescue centre. My niece asked me how the new cat would fit in, and the story formed from there."

Rebecca believes that both books send a strong message about inclusion and acceptance for children. She continues: "The first book was designed to help my niece understand how to open your hearts to another member of your family. I sent it out to my friends and they suggested I should get it published as the message was universal.'

Rebecca has enjoyed visiting local schools and nurseries in her community. The book has sold over one hundred and fifty copies, and has been sent across the world to California, Australia, New Zealand, Scotland and Africa. Also, it was featured in her local book shops, as well as the local adoption agencies, as the staff felt it was a good idea to share with children dealing with fostering and adoption from a young age.

Then lockdown hit in 2020 and Rebecca wanted to revisit the characters to share another important message. She concludes: "As a teacher myself, I was involved and influenced hugely by the educational impact of the pandemic on our children, as well as the deprivational effects of a lack of socialisation in our younger people. I wanted to change the mindset of young children and encourage them to continue to follow their dreams and ambitions, albeit from a different place (at home, for example) and show them that anything is possible. I wanted to lift the spirits of those who had been affected, and I can't wait for everyone to read the second book and continue sharing these stories."

Further details can be found on the Facebook page by searching 'Millie, Mollie & Max': https://m.facebook.com/Millie-Mollie-Max-101952657903012/

Online orders can be made at:https://rebecca-mills.my-online.store

See pictures of the real Millie Mollie and Max on Facebook!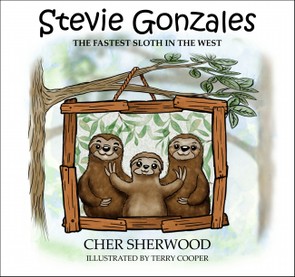 MAY (3-7):
STEVIE GONZALES: THE FASTEST SLOTH IN THE WEST
By Cher Sherwood


Candy Jar is pleased to announce its twentieth 'Book of the Month', Stevie Gonzales: The Fastest Sloth in the West.

Published with the help and support of Candy Jar's award-winning partner imprint Jelly Bean Books, this book is about being different and accepting yourself and others.

During an incredibly difficult time for her family, Cher Sherwood started writing Stevie Gonzales as form of therapy. She says: "The book was inspired by my grandson who at 1lb and 2lb was born fourteen weeks early. Suffering from anxiety, I started writing the story to calm myself down during this challenging period. I never intended for the book to be published. I just wrote it to read to him when he came home."

Cher's discovered that reading to a premature child is therapeutic and soothing and is known to increase the child's chance of survival. Further research from Stanford Children's Health also shows that full-term babies and toddlers benefit from reading. She continues: "I really do believe in the power of books. Armed with this knowledge, I tried to create the perfect bedtime story. I used all my experience as a parent, grandparent and school helper to promote early reading."

Like many in 2020, Cher was also hugely affected by her time during lockdown. With time on her side, she decided to concentrate on her writing. She says: "My friend Joss was writing poetry and posting it on Facebook. This inspired me to write my first ever poem on 2nd May 2020. And I just couldn't stop."

Cher was then contacted by The Big Book of Hope, a joint fundraising collaboration of one hundred coronavirus and lockdown inspired poems and funny lyrics from people across the UK for 'NHS Charities Together'. She continues: "I was really shocked and then felt extremely privileged to be asked. Since then, I have written a further thirty poems and most of my work has been published. So, around December 2020, I contacted Candy Jar and began the process of publishing my first book. This came to an abrupt halt when, just after Christmas, I was hospitalised with COVID-19. But I didn't let this stop me. I used my time in hospital to finish Stevie Gonzales."

Stevie Gonzales: The Fastest Sloth in The West offers a few bitesize facts about a sloths and is suitable for children with additional needs. In particular, children with ASHD (or on the spectrum) can identify with Stevie's relentless energy.

The book proves that, even in the worse times, a positive attitude can make a difference to your life. All you need to do is embrace new things when you least expect it. Cher concludes: "As a young child, I always wanted to be a writer, but sadly normal life gets in the way. It's such a great feeling to say forty-five years later that I have fulfilled my childhood ambition.

The book is also raising money for 'Oscars Journey to Independence'. The book can bought from here.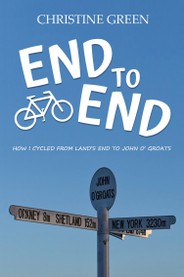 APRIL (ALL):
END TO END
By Christine Green

Candy Jar is pleased to announce its nineteenth 'Book of the Month', End to End.


Published with the help and support of Candy Jar's award-winning partner imprint Jelly Bean Books, this book recounts the adventure of a lifetime as 70-year-old grandmother Christine cycles solo on her electric bike from Land's End to John o' Groats.

Christine from Monmouthshire first got the idea to cycle the route between Land's End (the most southerly tip of the UK, in Cornwall) to John o' Groats (situated on the extreme north-eastern tip of Scotland) after she had a bike for her 70th birthday.

As a lifelong hiker who had completed some impressive routes, including the Cape Wrath Trail for her 60 th, Christine decided that she needed something gentler for her advancing years. "The distinct advantage of an electric bike is that the motor helps propel you along, and cycling uphill becomes a dream. People sometimes say, 'Ah, but that's cheating!' to which I always reply, 'Yes, but you still have to pedal.' Other advantages are that cycling on an electric bike is easier on your back, neck and joints!"

"I researched electric bikes and decided that I needed something fairly solid, with tyres that were as puncture proof as possible. A good range of battery distance and waterproof panniers were also top of my list. Gradually my distances increased and, little by little, I began to have a sneaking suspicion that I could take on a bigger challenge."

"I had never considered cycling one thousand miles on my own. There would be so many obstacles to overcome that the notion was simply overwhelming. I would have had no idea about how to go about such a venture and so I decided to investigate companies that offered support services. Imagine my disappointment when the secretary phoned to say that I was unsuitable to be included in their programme. She would not give the reason for my rejection. I had felt that we had developed a rapport, so much so that I had never considered there would be a question about my suitability. Was it my age, or the fact that I had an electric bike? I would never know, but as I put down the receiver, I said, 'Sod it, I'll do it myself!'"

The route, known as LEJoG, is a demanding mix of urban and rural riding, challenging even the most experienced cyclists with its dizzying climbs and precipitous descents – not to mention the British weather! And just like many 70 year olds, Christine had other factors to consider.

"I was encouraged by my daughter, Helen, to think about my medical history, to reflect that I had had my share of ups and downs, and perhaps my nether end might not be too comfortable being on a saddle day after day for many miles. This was true. At the age of thirty-three, pre-cancer cells in my womb led to a hysterectomy, followed in later years by a rectocele and cystocele, when the walls of my bowel and bladder, missing the support of the womb, began to cave in, requiring operations to prop them up again. Add in gall bladder removal, and spinal discs complaining about the strain of years of heavy farm work, Helen gently suggested that it might be better if I just continued to follow other peoples' adventures and not risk doing further damage to myself."

With characteristic grit, Christine decided to contact her GP to see if anything in her medical history would hold her back.

"I expected a negative reply, reasoning that if I thought that I needed drugs to do this madness, then I should already know it was a bad idea. But when she telephoned me, I could hear the excitement in her voice! She said it was a wonderful idea, and that she would prescribe some anti-inflammatory tablets, adding that, when I had finished my ride, I would feel simply wonderful."

As a Scot, exiled in Wales for over sixty years, pedalling home seemed the only way to go, but at first she didn't want to do it alone. Soon Christine made plans for the adventure of a lifetime. Her secret plans were beginning to feel very real!
"It was January 2017, and I could think of no better way to pass the dreary winter months than planning a one thousand mile cycle ride covering the length of Great Britain. What fun I had, reading and re-reading what had now become my two bibles. So began my training, throughout which I learned a lot about muscles, how they function and the benefits of training in water, which lends its support to the body. Soon I was walking up and down the pool, frontwards, backwards, sideways, marching up and down, swimming with flippers, swimming relaxed style.

Christine finished her ride after thirty days in the saddle, just shy of her 71st birthday and feeling 17 again!

"There would be moments of doubt and times when I felt very lonely. Throughout my one thousand miles on this journey I needed every ounce of stubbornness and determination as I battled into relentless icy rain which pelted into me, accompanied by a supernatural wind, both of which left me sapped of all energy and in tears. En route I broke down on Dartmoor, I received illicit offers from strangers, masked men with guns, hypothermia in the remote Scottish Highlands and accidentally gate crashed a funeral where I ended up comforting one of the mourners. Like the roads I travelled on my journey had its ups and downs. But it was all my choice to undertake what I did, and I had plenty of well wishers cheering me onwards."

Christine raised £7,000 for Women V Cancer and was quite surprised by the reception she received when she returned home.

"I was suddenly in demand as a speaker, something which I was initially hesitant about but which I came to enjoy, and at the end of most talks someone would approach me to tell me about their cycling days, or to say that I had inspired them to take on their own challenges.I could not have achieved all that I did without the support of so many people, from the early planning stages and throughout my ride. People have lauded me with praise, but I deserve none of that. The people who deserve the praise are those fighting illnesses, of all kinds, often without complaining. All that I had to do was to keep pedalling!"


You can buy End to End from
http://www.candy-jar.co.uk/books/endtoend.html
https://www.freewebstore.org/jellybeanbooks/product_preview/p4712028_21135116.aspx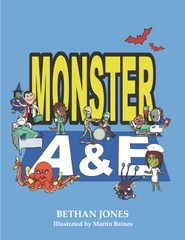 MARCH (3-7):
MONSTER A&E
By Bethan Jones
Illustrated by Martin Baines


Candy Jar is pleased to announce its eighteenth 'Book of the Month', Monster A&E.

Published with the help and support of Candy Jar's award-winning partner imprint Jelly Bean Books, this madcap story tackles a visit to A&E from a very different perspective.

What happens if a monster has an accident? Where do these unfortunate creatures get their bumps and bruises looked at? A&E of course – just like you and me!

Written by school nurse, Bethan Jones, this monstrous tale taps into her personal experience. She says: "Prior to my job as a school nurse my only interaction with children and health professionals came from my own experience as a mother. Every hospital and GP appointment would fill me with dread as my children all had a horrendous 'white coat syndrome', despite me being a nurse for fifteen years."

Bethan also found that when visiting schools to administer vaccinations, the children would often be scared of her. Despite trying to reassure them, they were convinced that she was there to hurt them. This was obviously not the truth, but when she considered writing a book, it was a subject that she wanted to explore.

She continues: "Throughout the pandemic I would watch the news with my son. He would ask questions about hospitals, and why people were there. These questions were difficult to answer so I decided to create something that he would understand.

I came up with a ghoulish story where even the biggest, scariest monsters can get hurt and be frightened at times. I just hope that my unusual take on A&E will help teach young children not to fear health professionals."

Monster A&E is specially written to enable children to feel confident and reassured about accessing hospital services.

Bethan concludes: "I would love nothing more than for the book to be read by all UK children. I also feel it would make a great short film to be shown in classrooms, something like Francis the Fire Bug, a film I was introduced to as a child to stop us playing with matches!"

Currently Monster A&E is featured in seven libraries, six local bookshops and the Milton Public Library in Canada.

To buy the book click here.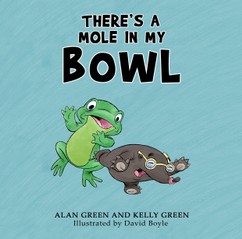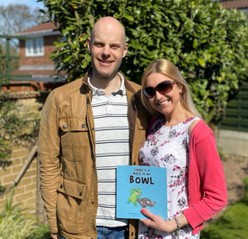 FEBRUARY (3-7):
THERE'S A MOLE IN MY BOWL
By Alan Green and Kelly Green
Illustrated by David Boyle


Candy Jar is pleased to announce its seventeenth 'Book of the Month', There's a Mole in My Bowl.

Published with the help and support of Candy Jar's award-winning partner imprint Jelly Bean Books, this riotous story explores many of the emotions parents and children have been going through during lockdown, especially during mealtimes.

Written by married couple, Kelly Green and Alan Green, There's a Mole in My Bowl was originally conceived to address their son's fussy eating habits.

Kelly says: "We used to play games at mealtimes with him – basically anything to get him to eat fruit and vegetables. We tried using plates featuring characters as an enticement for him to finish his food, but if truth be told, nothing really worked."

Alan picks up the story: "We even started to tell him tales featuring the kitchen utensils, hoping this would encourage him to eat, but things just got worse. Basically getting him to try anything new was a nightmare!"

Alan and Kelly turned in desperation to other parents, all of whom had similar experiences. In fact, they soon discovered that children being picky about what they ate was actually a fairly common problem.

Kelly continues: "Apparently, children with autism often struggle with tastes and textures, and therefore often need a lot of encouragement to finish their food. It was obvious from our research that mealtimes – and the problems that occur because of them – increased anxiety in the family.

"We decided to write a book to explore the most common issues, and we felt that trust, avoidance, and healthy eating were problems all parents seemed to mention. Our intention with the book was to make a serious and emotionally heavy subject, more light and 'palatable' for younger children."

With wonderful Disney-style illustrations, There's a Mole in My Bowl tackles these subjects head on. Featuring Frog and Shrew, the owners of a world-famous bar and grill, the book's message is serious, with delightfully funny undertones.

Blurb:

A tall brown tree on top of a large green hill ishome to Frog and Shrew's – a world-famousbar and grill! The restaurant is full to bursting, and the guests are keen to gobble up all the delicious treats on offer. But all of the food keeps mysteriously disappearing… Will the hungry guests ever be able to finish their dinner? Or will the cheeky little Mole beat them all to it and finish every last mouthful?

Alan concludes: "We don't expect to change the world with this book. We just hope it will help children eat a little better, and their parents stress a little less. It has certainly helped with our son, who (mostly) looks forward to mealtimes now. Perhaps every family should have a Frog and Shrew!"

To buy this book click here.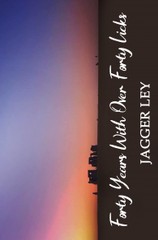 JANUARY (ADULT):
FORTY YEARS WITH OVER FORTY LICKS
By Jagger Ley


Candy Jar is pleased to announce its sixteenth 'Book of the Month', Forty Years With Forty Licks by Jagger Ley.

Published with the help and support of Candy Jar's partner imprint Jelly Bean Books, this hard hitting memoir explores life in the wake of a devestating traffic accident. When you're a teenager, it seems one night out can change your life. For Jagger Ley, that proved true – but not in the way he'd hoped.

When returning from an evening's entertainment, Jagger experienced a freak accident that left him sprawled at the side of the road, fighting for his life.

His recovery was long and arduous, requiring the perseverance and grit that would come to characterise his life to follow. But upon leaving the hospital, he discovered that his struggle was only just beginning.

In the crash, I suffered a severe blow to the head. And that marked me out as a target. Everywhere I went, people would treat me like an idiot, a fool. I was bullied and discarded; every chancer in the area seemed to home in on me, like vultures searching for scraps." Surrounded by false friends, scheming lovers, and exploitative employers, Jagger took solace as a loaner in his new found career – electrician.

"I blagged my way onto my first site. I had very little electrical knowledge! But I quickly discovered that I had a knack for it. My favourite part of it was that generally you worked either alone or in a small team. The solitude allowed me to get my head together while also learning a new skill."

"The end of every job was a chance to start afresh. Sometimes this was bittersweet, sometimes I couldn't wait to get going! But after the nightmare of my accident – and most of all, what followed my accident – I liked walking onto a new site with a clean slate, with no one knowing my name, and where no one was trying to take advantage of me."

Circumstances moved Jagger to the Republic of Ireland, where he started his own business. The work ethic he had developed in his years travelling Britain saw him flourish in the boom years of "the Celtic Tiger". But as he discovered, fortune didn't solely bring gold.

"When you're down, there's always someone around who'll try to take advantage of you. And when you're up, there's three of them! When I moved to Ireland, my luck seemed to change overnight. I met a girl, settled down, became a father, started a business. A few years later I was jobless, separated, and estranged from my beautiful child."

"My whole life in Ireland was a lie – the mother of my child onlysaw one thing in me: my bank balance. My employees defrauded me behind my back. By the time the veil was lifted, it was too late. I returned to the UK with nothing but the wisdom I had gained for the experience, and a determination to never again lose my sense of self-respect."

On one level, Jagger's story is a cautionary tale of how one fateful event can change the trajectory of a whole life; how unscrupulous individuals exploit perceived weakness; how being marked out as "different" can affect you. But at the same time, it's a defiant tribute to living life on your own terms.

Jagger continues: "The book comes with a soundtrack: every chapter has a tracklist that the reader can listen along to as they progress through the story, each track placing you in a time and place. Rock music has been my one constant companion throughout my life; I've always been attracted to the idea of the rock and roll rebel. At low times in my life, my music's reminded me to stand tall, put my shoulders back, and to stand my ground as my parents continually told me to do in my younger years."

"I never wanted to write a story of self-pity. I wanted to write something that captured how life treats an outsider, and how important it is that you guard you freedom, and hold your own."

Forty Years With Over Forty Licks is a powerful, defiant memoir, available now from here or here or www.fortyyearswithoverfortylicks.com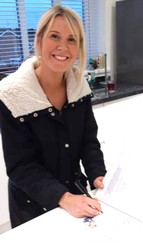 DECEMBER (3-7):
MESSY DAD AT THE CHRISTMAS
By Gemma Greening
Illustrated by Matthew Prewett


Candy Jar is pleased to announce its fifteenth 'Book of the Month', Messy Dad at Christmas by Gemma Greening and illustrated by Matthew Prewett.

Published with the help and support of Candy Jar's partner imprint Jelly Bean Books, this slightly anarchical book is a must for lovers of all things festive.

Messy Dad at Christmas is the third Messy Dad book, following Messy Dad at the Beach, and the singularly titled Messy Dad.

Gemma is adamant that the Messy Dad series is not based on her partner, although she does admit that sometimes it does veer close to the truth. She says: "Messy Dad started in the summer of 2019, when funny poems that I had written in my partner's birthday cards were read aloud at a friend's barbeque. I was pleasantly surprised when my friends and children were laughing and asking for more. A neighbour was listening to these funny poems from his garden, poked his head up from the fence and said, 'I can draw, and would love to draw some pictures of Messy Dad'. The rest is history!"

Gemma went on to release Messy Dad to critical and financial success. She continues: "I really should be a sales person. I can't believe how many books I have sold. People really seem to enjoy my stories and, in particular, the character of Messy Dad. I think everybody knows someone like him. He might not necessarily be a dad; he maybe someone's brother, uncle, grandfather, but the idleness combined with a heart of gold seems to resonate with my readers."

With the holiday season fast approaching, Gemma is excited that Santa will not be the only bearded man that children will look forward to. Head of Publishing at Candy Jar Books, Shaun Russell, is also thrilled to see the third book released. He says: "I knew straight away that Gemma would be a fantastic advocate for Messy Dad. Her book really touched a nerve, and I'm not surprised that so many people loved the characters and situations. Her insightful humour plays well with children and adults alike. No wonder it was so popular! So when she delivered the sequel Messy Dad at the Beach I read it with some trepidation, but, of course, once again it was excellent. And thankfully Messy Dad at Christmas also delivers the goods, or perhaps I should say presents?"

2020 has been a difficult year and Messy Dad at Christmas serves up a welcome dose of laughter and pathos. Gemma concludes: "Christmas is definitely my favourite holiday and I just had to write a book on our family fun. But, as much as I love Christmas, I always feel stressed and worry about everything that needs to be done. However, last year I put my foot down and wrote Messy Dad instead."

Will Messy Dad save the holidays? That's for you to find out! One thing for certain, the book will certainly make you laugh (and groan) as our hero attempts to save Christmas!

Messy Dad at Christmas cost £7.99 (+ p&p) and can be ordered here.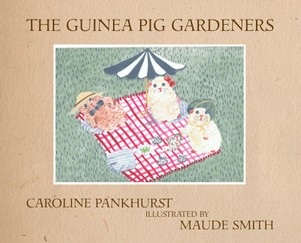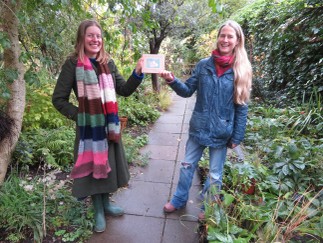 NOVEMBER (3-7):
THE GUINEA PIG GARDENERS
By Caroline Pankhurst
Illustrated by Maude Smith


Candy Jar is pleased to announce its fourteenth 'Book of the Month', The Guinea Pig Gardeners by Caroline Pankhurst and beautifully illustrated by Maude Smith.

Published with the help and support of Candy Jar's partner imprint Jelly Bean Books, this Beatrix Potter-inspired hardback book is a perfect Christmas present.

2020 has been a difficult year for children, with lockdown and the rule of six separating children from their friends and family. Caroline and Maude's book offers a timely solution to this. Introducing children to the joys of gardening, the environment and nature, this traditional hardback is well-placed to encourage children to investigate the natural world, and to look after the nature that surrounds us.

With so many schools opting to create their very own garden, it is widely believed that children benefit from this stimulating and motivating activity. Caroline and Maude's book takes this principle to the next stage, by introducing children to the joy of a sustainable lifestyle and a love of nature.

Caroline's ideas and motivation for the story stem not only from her work for the South London Botanical Institute (SLBI), but also as former volunteer with children in the gardens of National Trust Ham House, and Horticultural Therapist at Thrive. She says: "The story is about a family of guinea pigs who enjoy gardening. They grow their own food, plant flowers for the bees, drink mint tea, and engage the help of a squirrel who can get into bird feeders. Many of the characters have plant names, and older readers or parents can enjoy botanical references to Rosemary the Rabbit having a good memory (as use of the rosemary plant gives this benefit) and the evil slug and snail being called Bella & Donna (Belladonna being the botanical name for Deadly Nightshade).
Caroline met Maude at the SLBI, where she was amazed by her artwork for children's activities there, including a huge mural on the wall. She asked Maude if she'd like to illustrate The Guinea Pig Gardeners, and their joint venture finally reached publication during lockdown this summer.

Maude says: "I found Caroline's story utterly charming, delightful and a real joy to illustrate. It is very evocative, natural, homely and beautiful. As a child I was enchanted by the little Beatrix Potter books. They are timeless and imaginative, and offer a different perspective on animals. No one can possibly compete with Beatrix Potter, but I hope that these Guinea Pig books might give a child the same delight that I got from her books. I look forward to working on the many more volumes to come, and getting more involved in the world of little Humphrey and his animal friends."
Caroline continues: "I really want to help educate children in environmental matters and have used practical gardening ideas in my story that I know children enjoy. I was inspired by my friends' guinea pigs, and all the squirrels I see doing acrobatics on bird feeders."

Initial sales are going well, with books appealing to lovers of guinea pigs, gardeners, or just the look of the book. "It's like Beatrix Potter but with a modern message," said one buyer. As people discover the importance of nature during lockdown, the appeal of this book is particularly timely.

The Guinea Pig Gardeners are hoping to bring happiness, and the joy of plants to lots of children this Christmas.

Books cost £10 (+ p&p if needed) and can be ordered by contacting Caroline on guineapiggardeners@gmail.com.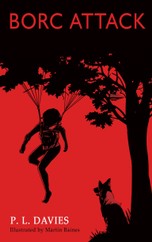 NOVEMBER (8-12):
BORC ATTACK
By P L Davies
Illustrated by Martin Baines


Candy Jar is pleased to announce its thirteenth 'Book of the Month', Borc Attack by Phillip Davies.

Published with the help and support of Candy Jar's partner imprint Jelly Bean Books, this is a gripping science fiction adventure that turns the pages for you!

Borc Attack transports the reader to the planet Digon, where everyone lives happily and in perfect peace. That is, until the Borcs start to attack! Inspired by his little dog Meg, Phillip wanted to create a story where Meg is the hero, as he felt she was his very own guardian angel. He says: "My wife was at work, and I was alone in the house lying on the sofa in our living room feeling sorry for myself after a recent heart attack had forced me to finish work at a much earlier age than I'd planned. The thought of not being able to work again as a teacher, a job I loved, as well as the lack of money and a mortgage to pay, made me feel panicky, weak and vulnerable."

"As if sensing my unease, Meg got up out of her basket, jumped up beside me and looked deep into my eyes. I realised she was telling me not to worry. Assuring me that if I took things in my stride, hour by hour, day by day, my problems would eventually work themselves out. Immediately feeling much better, I got up from the sofa, hooked Meg's lead to her collar and set off on what was to become the first of our (no matter what the weather) twice daily, comforting walks."

Over the next twelve years, before Meg eventually passed away, the pair roamed the mountainsides and parks near Phillip's home – Meg chasing balls, chewing sticks and jumping in ponds and taking in the wonderful natural beauty of South Wales. Slowly Phillip became fitter and stronger, and just as Meg had assured him, the problems of not working began to resolve themselves. It was on one of those walks, as Meg and Phillip sat side by side in the sun on the bank of Llwyn-On reservoir looking up at the beautiful Brecon Beacons, that Phillip decided to do something special to thank his great friend. He decided to write a book.

The book eventually became Borc Attack, published by Candy Jar Books. Publishing Co-ordinator at Candy Jar Books, Keren Williams, feels that Borc Attack is a story that will touch the heart and spark the imaginations of children. She says: "Phillip has created a whole new world of action, adventure and intrigue. Thrown into the action right from the start and presented with characters that you automatically connect with, you find yourself desperately wanting to read on. Phillip is a very talented writer, and a wonderful storyteller, and I hope everyone gets a chance to read Borc Attack."

As a former teacher, Phillip knew exactly what type of characters children would find captivating. He says: "The child characters in the novel were largely drawn from a combination of the traits and personalities of some of the hundreds of children I taught during my career. Ubic, the protagonist, needed to be strong and brave, yet kind and gentle and super intelligent. Laura was a student of mine, who had the habit of bringing stray dogs to school. 'I can't help it, Sir, they just follow me,' she used to say. And Jet, the Jack Russell, is, of course, my old friend Meg."

The book has been illustrated by Danger Mouse, Thunderbirds and Doctor Who artist Martin Baines. His artwork encapsulates the intense creativity of Phillip's writing. Phillip concludes: "I really love Martin's take on my characters and situations. He has captured everything perfectly. His modern sensibilities really add to the book, and I hope the combination of his pictures and my words will encourage children, especially those who wouldn't normally read, to embrace the power that only a book has."


Borc Attack is available to purchase from here.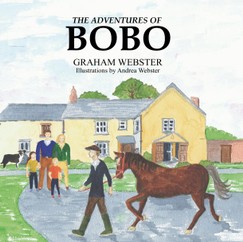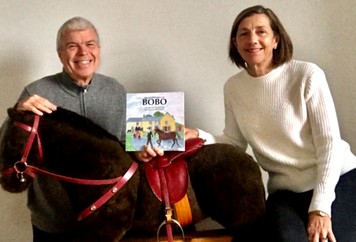 OCTOBER (3-7):
THE ADVENTURES OF BOBO
By Graham Webster
Illustrated by Andrea Webster


Candy Jar is pleased to announce its twelfth 'Book of the Month', The Adventures of Bobo by Graham and Andrea Webster.

Published with the help and support of Candy Jar's partner imprint Jelly Bean Books, this child-friendly book explores loneliness.

The Adventures of Bobo was a lockdown project for grandparents Graham and Andrea Webster. With not much to do, and plenty of time to do it in, they decided to finish off a story they'd created months earlier. The text was originally penned by Graham and takes the reader on an exciting journey, exploring abandonment, solitude, and ultimately friendship. Much like Black Beauty or Disney's Incredible Journey, animals feature heavily in this story. Evoking the qualities of traditional picture books such as The Tiger that Came to Tea or the Beatrix Potter stories, the book also fits nicely within a child's current lockdown mentality.

The book was originally written for Andrea and Graham's granddaughter, Sophie, to highlight the importance of friendship. Graham says: "Lockdown has been a difficult for everyone, particularly children and the elderly. With the rule of six being implemented, the situation is only improving incrementally. Children, of course, have returned to school, but we believe that they are still feeling abandoned. For many of us and especially children, not being able to see our friends during lockdown has reinforced the importance of friendship. Friendship is a strong theme in our book."

Lockdown offered Andrea a perfect opportunity to add beautiful illustrations to enhance Graham's story. She says: "Thirty five years ago we took Elizabeth, our toddler daughter, to a local farm and she fell in love with a large brown horse. She called him Bobo in a pre-language sort of way. Later, at Christmas, when her grandparents gave her a beautiful brown rocking horse, finding a name was simple. We called it Bobo."

Andrea and Graham have really enjoyed watching Sophie's rapt response to the stories, and believe that the wider world should be able to enjoy them too. Graham continues: "It's always been our ambition to get the book published. Lockdown has given us the chance to do this and the reception has been great. People can't get enough of Bobo's equine adventures. We hope that younger readers will enjoy them as much as Sophie did."

Head of publishing at Candy Jar Books, Shaun Russell, feels The Adventures of Bobo is a sure fire winner. He says: "You can see the love and passion that has gone into each page. All children will fall in love with Bobo. Along the way they'll learn about coping with the ups and downs of life, particularly when you are young. It inspires the reader to overcome setbacks, remain hopeful and try to do their best. Bobo did this, and eventually found his place in the world!"

The Adventures of Bobo is available to purchase from here.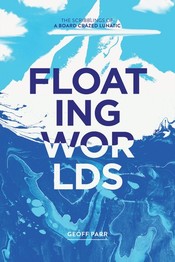 SEPTEMBER (ALL AGES):
FLOATING WORLDS
By Geoff Parr


Candy Jar is pleased to announce its eleventh 'Book of the Month', Floating Worlds by Geoff Parr.

Published with the help and support of Candy Jar's partner imprint Jelly Bean Books, this book an adventurous romp through snowboarding.


Floating Worlds is the colourful account of a pinball journey that Geoff Parr drifted into during the hot seventies, up until the new millennium. It delves into the powerful feelings of becoming a surfing addict, which ran parallel to a 'normal' career and family life.

Something of a cult-style book that documents how snowboarding appeared on our shores and Geoff's video player, and the intertwining influences of alternative sports, music, punk and rave on this growing craze. Geoff's playground expanded from the Gower beaches to the Brecon mountains and beyond. The web of pioneer snowboarders slowly joined up through competitions, some that

Geoff helped to set up, and the consequent explosion into the mainstream. Many wanted a bit of the action, even the skiing bodies that frowned on snowboarding. This runaway train had to stop somewhere, and Geoff had a good idea where it was all going to end.

Floating Worlds also examines the eternal balance between money and the soul in the real-life situation that Geoff faced, with the impact of competitions, Olympic golds' and sporting bodies on a collision course.

The website for the book is www.floatingworlds.info and has some fascinating photos from his journey and from here.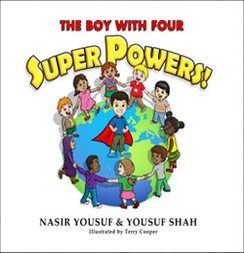 AUGUST (3-7):
THE BOY WITH FOUR SUPER POWERS
By Nasir Yousuf & Yousuf Shah
Illustrated by Terry Cooper

Candy Jar is pleased to announce its tenth 'Book of the Month', The Boy With Four Super Powers by Nasir Yousuf & Yousuf Shah.


Published with the help and support of Candy Jar's partner imprint Jelly Bean Books, this child-friendly book helps children find their own personal super power.

For the last five months young people have been separated from their friends. Of course, some have been able to communicate via social media, while others have experienced virtual teaching with their classmates.

However, as we come out of lockdown and return to school, some parents are concerned that children have lost invaluable time. Some are worried that the foundations we lay to help our children become good people have been disrupted.

Yousuf Shah, a researcher of mental health and well-being of young people and founder of Brighton Families, teamed up with his seven-year-old son, Nasir, to create the antidote to this. During the COVID-19 pandemic Nasir found it difficult to not wake up as usual, get ready for school, and see his friends and teachers. As a very kind and emotionally sensitive person, Nasir was also affected by the Black Lives Matter demonstrations in the USA. As a result he asked his dad if they could creat a book to help these people and make the world a better place to live for everyone.

Yousuf says: "My son has always had a natural talent to recognise the good in people. Like most young people he does not see black and white, but shades of grey. Despite his young age, he has one book under his belt called Adventures of Disco Robot. So when he came up with the idea of doing a book with the message of not judging someone on their looks; basically being kind and recognising their real-life super powers, I felt I had to support him."

Nasir, who loves playing Minecraft on TV, football in the field and writes for one hour every night, says: "I really love superhero stories and my friends do as well. I would love to be Spider-Man and save the day, but until this happens I hope my book will help people find their own superpower."

As a father of four young children Yousuf has struggled to find books which are not fiction or fantasy, have BAME characters, and have human qualities like kindness, independence, routine and open communication between family members.

Yousuf continues: Childhood forms and affects a person's life and we all realise our children will grow up in a warzone of social media, negative comments, bullying, trolling and judgment of appearance where children starve themselves to avoid bullying at schools and society. My hope is this book will teach parents and children how to be themselves."

The Boy with Four Super Powers is separated into four sections, each one based on a real-life superpower. The first section helps children analyse situations and question their perceived notions. The second section encourages independence, and offers guidance to parents on how to achieve this. The third section is about feelings and emotions. The fourth section is about being kind, fair and free from negativity.
Yousuf concludes: "Once we came up with the idea for the book, we worked really hard as a family to make it happen. Everybody pitched in and we sent it to a publisher who really loved the idea."

Shaun Russell, head of publishing at Candy Jar Books, was excited to receive the book. He says: "Lockdown has been a difficult time for all of us, but particularly those under ten. This book helps parents begin the process of reintegration. By engaging with the colourful and beautifully illustrated sections, children are encouraged to think for themselves, to question bigotry, to understand their ever changing emotions, and to ultimately become well-rounded individuals.

The Boy with Four Superpowers is available to purchase from Amazon Prime and and Brightonfamilies.co.uk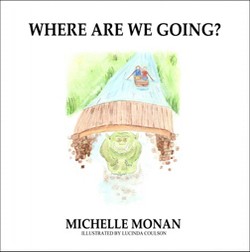 JULY (3-7):
WHERE ARE WE GOING
By Michelle Monan
Illustrated by Lucinda Coulson

Candy Jar is pleased to announce its ninth 'Book of the Month', Where Are We Going? by Michelle Monan.

Published with the help and support of Candy Jar's partner imprint Jelly Bean Books, this child-friendly book explores how anxiety can affect young people, and attempts to rectify this with a simple story that parents can share with their children.

Written before lockdown, Michelle's lovely book encourages children to face their fears. Michelle, who is a long-term sufferer of anxiety, feels that in these uncertain times children need traditional stories to help them navigate each day at a time. She says: "Before the pandemic I was fortunate enough to visit several primary schools. These visits showed that children are equally susceptible to anxiety due to worries about their school work, bullying or friendship circles. It was gratifying to discuss this with them. Anxiety is a hidden disability, and I truly believe some of these fears have been compounded by the lockdown, and to some extent the Black Lives Matter demonstrations. The world must be very confusing for a five-year-old at the moment. My simple stories help stimulate conversation between parents and their fed-up children."

As children return to school, Michelle is also hoping that her stories will help with the depth of anxiety and loneliness that young people have faced for the last three months. She continues: "Writing my first book was definitely a release for me. It helped me face up to my own personal demons, and although my second book was written before lockdown, it now seems incredibly relevant to children who've not been able to go for long walks in the countryside. It promotes outdoor play, and although children may not be able to do this quite yet, it will help parents as they encourage their children back outside."

Michelle's first book, Can You Hear it Too? follows two brothers as they build a den in the woods, but when they hear all kinds of noises they imagine terrible things. Their fear is quickly followed by relief when they discover the truth behind the noises. It was published by Candy Jar in 2017. Michelle's latest book, Where Are We Going? moves the story onto autumn with the same brothers on a different adventure, but still very much focusing on anxiety. Michelle has written a summer story, and has lots of ideas for winter, completing the four seasons.

Head of publishing at Candy Jar Books, Shaun Russell, feels that Where Are We Going? is well-placed to help our children back into the real world, but is disappointed that his plans to promote this book (and many others) have been put on ice. He says: "Every year we have a mini-festival featuring pop-up retail units across South Wales. These, of course, have all been cancelled. Our plan was to feature some of the top titles. Hopefully next year."

Can You Hear It Too? and Where Are We Going? can be purchased here or directly from Michelle on her Facebook page (Children's Author Michelle Monan).





JUNE (3-7):
THE BOY WHO WAS ALWAYS WARM
By Yasmin Simsek
Illustrated by Emily Ann Harris


Candy Jar is pleased to announce its eighth 'Book of the Month', The Boy Who Was Always Warm by Yasmin Simsek.

Published with the help and support of Candy Jar's partner imprint Jelly Bean Books, this beautifully illustrated book explores the importance of kindness through the touching story of Ozzy, a boy whose kindness makes him uncomfortably warm.

As well as teaching children valuable lessons of caring for one another and enjoying physical activity, the book reinforces how sleep is essential in keeping you healthy and happy. Yasmin says: "I wanted my book to encourage parents to read their children to sleep, which is why the simple story is focused on a child who wants to go to sleep. This is especially pertinent in the summer months when it is light and warm and it is difficult to convince children to get their recommended ten hours of sleep."

In a world where mental health issues are more talked about than ever, The Boy Who Was Always Warm effectively communicates that being overly tired can negatively affect your mood and behaviour. Getting a good night's sleep is a key part of taking care of your mental and physical health, and Ozzy's transformation throughout the book shows this in a light-hearted and easily understandable manner.

Yasmin has worked with children with special educational needs in the UK for the past six years and has encountered a lack of representation within the children's book industry. This inspired her to include a diverse range of ethnicities in The Boy Who Was Always Warm, as well as tackling the aforementioned mental health issues, and introducing a single mother into the mix.

She continues: "I want parents of my generation to have a book that they can read to their children that is not extremely explicit about the diversity of families, such as outright stating that
someone has gay parents. I think it is important to have written book that does not patronise children and allows them to accept the uniqueness of everyone in the world from the early stages of their development."

The Boy Who Was Always Warm teaches that kindness is important and that you should accept everyone, regardless of their race or familial situation, a lesson that all children should learn in today's society of acceptance.

Yasmin now lives back in Denmark and has produced two versions of the book – one in Danish, the other in English.

She concludes: "I wanted to produce a book that can be read anywhere in the world. I've started with two languages but I plan to expand it further. It is important in this time of misinformation that the true values of love and inclusivity are brought to the fore. I hope my book does this."


The Boy Who Was Always Warm by Yasmin Simsek is available from here.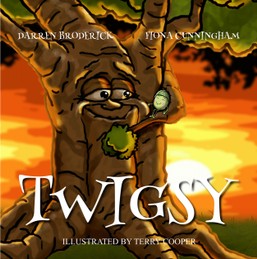 JUNE (3-7):
TWIGSY
By Darren Broderick & Fiona Cunningham
Illustrated by Terry Cooper


Candy Jar is pleased to announce its seventh 'Book of the Month', Twigsy by Darren Broderick and Fiona Cunnningham.

Published with the help and support of Candy Jar's partner imprint Jelly Bean Books, this beautifully illustrated book has been created to help teach children about the changing seasons.
The book is about Twigsy, a tiny acorn who comes to life during the autumn. After being separated from her mother, Twigsy sets out on a fantastic adventure. Along the way, she meets all kinds of animals, and discovers why the autumn is such a special time.

Written by software developer, Darren and PhD researcher, Fiona, Twigsy is a dream come true." Fiona says: "We've always wanted to do this, but ordinary life would often get in the way. One day we found ourselves on a long train journey, so after exhausting crosswords, chatting about our upcoming wedding, Spotify playlists and numerous games of i-spy, we decided to make a start on the book."

Darren says: "We were travelling to the North Coast that day and the view outside was stunning. The autumn leaves had started falling, the sky was blue, and the sun was shining. It was perfect weather to get our creative juices going. After a great deal of brainstorming, Twigsy was born. It was as though we'd known the little acorn for most of our lives."

Fiona continues: "It was easy after that. The story just told itself. Twigsy is an adventurer – the eyes of the child, discovering new things. Our long-term plan is to create four Twigsy editions based on the seasons: winter, spring, summer and autumn."

Shaun Russell, head of publishing at Candy Jar Books, believes that this kind of picture book is needed more than ever. He says: "With children living life under lockdown, it is possible that they are missing out on the great outdoors. Of course, this book won't replace the sensation of kicking leaves in the air, or taking a long walk in the forest, but it comes pretty close. It's a great way to educate children about changing seasons during our uncertain times."

The artist for Twigsy is Terry Cooper, who over the years has illustrated a number of Candy Jar and Jelly Bean books. Darren concludes: "We really loved Terry's artwork and were so pleased that he was available to do our book. His friendly style really captures the essence of the character. On our train journey we conceived Twigsy, but Terry has given birth to her."

All profits made from sales will go to Almost Home Animal Shelter in Northern Ireland.

Twigsy by Darren Broderick and Fiona Cunnningham is available from here.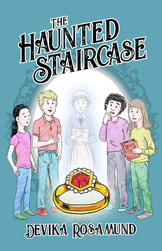 MAY (8-12):
The HAUNTED STAIRCASE
By Devika Rosamund

Candy Jar is pleased to announce its sixth 'Book of the Month', The Haunted Staircase by Devika Rosamund. Published with the help and support of Candy Jar's partner imprint Jelly Bean Books, this mind-bending time travel novel is reminiscent of classics such as Five Children and It and The Famous Five.

However, unlike the books of E Nesbit and Enid Blyton, The Haunted Staircase takes both the reader and the characters back to a realistic portrayal of Victorian servitude. Similar to Downton Abbey or Upstairs Downstairs, this book is a fascinating depiction of a bygone world, but with an added twist! What if children from the twenty-first century ended up as servants in a Victorian house?

Devika wanted to combine today's progressive storylines, with the kind of books she used to read as a child. She says: "I always intended to write a children's novel for 9 to 12 year olds that involved ghosts, magic and adventure, but I wanted it to be educational and fair representation of life in service."

The characters use a magic spell to travel back in time where they investigate the mysterious death of a Victorian servant girl. For authenticity, Devika undertook a great deal of research about Victorian service. In particular, how so-called employees were often treated as no better than slaves. She continues: "I was aware that the Victorian Age was covered by the National Curriculum, so my book seemed like a natural fit. I live now in Scotland where the story is set, but I was a primary school teacher for more than twenty-five years in London and Kent. I always found that children enjoyed ghost stories, and decided to write a spooky story with realistic overtones. Hopefully my book will entertain, inform and reward today's modern youngsters."

Devika is also a talented artist and was pleased when Candy Jar suggested including her artwork in The Haunted Staircase. She concludes: "I had a lot of fun illustrating the story myself and I hope that my writing and simple illustrations will inspire young readers to write and illustrate their own stories. I am grateful to my editor, Shaun Russell, for improving my ghost story by adding humour. I wanted the ghost to be a pleasant character, rather than an evil one, and I always make sure my stories have happy endings. I like to leave young readers with a sense of satisfaction that all the problems are solved in the end."

The Haunted Staircase can be purchased from here.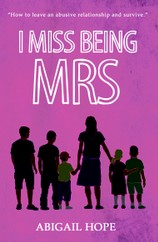 MAY (ADULTS):
I MISS BEING MRS
By Abigail Hope

Candy Jar is pleased to announce its fifth 'Book of the Month', I Miss Being Mrs by Abigail Hope. Published with the help and support of Candy Jar's partner imprint Jelly Bean Books, this thought provoking and shocking memoir will help victims of domestic abuse get through the lockdown and make plans for a better future.

The book is a journey of resilience and determination. It shows that hope can overcome insurmountable obstacles. Abigail says: "Nobody wants to leave everything behind. Often victims of abuse blame themselves for their partner's cruelty, internalising emotions for sake of the children. I wanted to show that these feelings can be beaten. In particular, emphasize how my faith sustained me through the dark times."

Abigail admits that not all people have faith – especially given the painful circumstances – but feels that the story of her struggle can help someone else build a better life and break free from maltreatment.

She continues: "My trust in God helped guide my decisions and show me a better path. I now live in a wonderfully safe place with my happy children beside me. My faith was my coping mechanism. However, others may have their own ways to cope. I do believe that courage is important; the courage to face up to the truth; the courage to find your own way out. People are there to help you. There is a better way to live.'

Abigail wrote I Miss Being Mrs from the safety of South Wales where she lives with her five young children. Her heartbreaking story follows Abigail's marriage from a fairytale wedding, to a deteriorating relationship full of bullying, lies and paranoia. Her story, however, is underscored with hope and optimism.

Abigail concludes: "It was very difficult leaving the father of my children. I loved him so much, and felt I could help him overcome his demons, but he is an alcoholic and needs the support that I cannot give him. Ultimately it was the children who were more important and I took the decision to start a new life elsewhere. Navigating my way through the family courts to protect my children was difficult, but it was worth it in the end."

I Miss Being Mrs is Abigail's first book. She works as a debt centre coach for the charity Christians Against Poverty, helping vulnerable people to become debt free.

I Miss Being Mrs, by Abigail Hope, is available now from: https://abigail-hope.onlineweb.shop/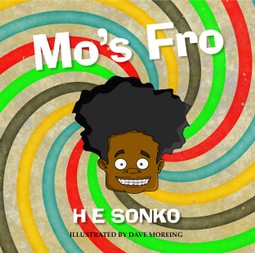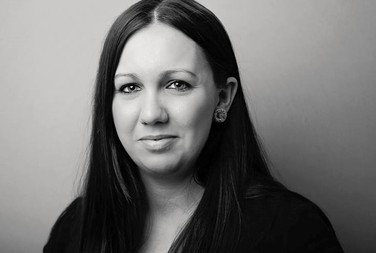 MAY (3-7):
MO'S FRO
By H E Sonko
Illustrated by Dave Moreing

Candy Jar is pleased to announce its fourth 'Book of the Month', Mo's Fro by H E Sonko. Published with the help and support of Candy Jar's partner imprint Jelly Bean Books, this wonderful children's book is the perfect antidote to the lockdown.

Mo's Fro is modern fairy tale with a twist. It teaches children about multi-cultural Britain and sends the reader around the world to visit other cultures. Author H E Sonko, as an academic and mother, recognises that literature needs to represent all the communities that live in our society.

She says: "It is important to tell stories that authentically represent British life. Our differences don't divide us, they unite us. We're all special, we're all unique, we're all valid – and so we're all, at the end of the day, one. Getting to know each other is not something to fear; it's an adventure that never stops. That's the message I hope comes across to my young readers."

Mo's Fro features the enchanting tale of Mo and his best friend, a one-armed giraffe called Jimbo. Together, the two are whisked away on a magical adventure, thanks to Mo's magical afro. When they travel to the Middle East, they must help a camel prepare for a great beauty pageant and impress the king.

H E Sonko continues: "I wrote Mo's Fro for my young son. I wanted him to have a book that actually featured a character that truly represented him. I also wanted to make the story fun, and not worthy as often these books can be. As a new author I was, of course, apprehensive when I first sent the story to my friends, but was heartened when it was swiftly met with such high praise."

Featuring vibrant full page illustrations by Dave Moreing, Mo's Fro is a heart-warming exploration of self-acceptance, and the value of each and every one of us, making it perfect for children of every background.


Mo's Fro, by Hannah Sonko, is available now from: https://www.facebook.com/MoFroOfficial/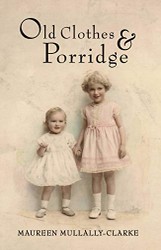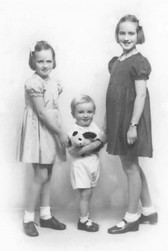 APRIL (ALL AGES):
OLD CLOTHES & PORRIDGE
By Maureen Mullally-Clarke

Candy Jar is pleased to announce its third 'Book of the Month', Old Clothes and Porridge by author Maureen Mullally-Clarke. Published with the help and support of Candy Jar's partner imprint Jelly Bean Books, this wonderful memoir looks back at a bygone age, particularly focusing on the 1930s and '40s.

Brought up by her grandmother in Glasgow, Maureen and her little sister Oonagh only saw their parents at eighteen month intervals. Old Clothes and Porridge tells the story of a childhood spent against the backdrop of the Depression, the launch of the Queen Mary, the Jarrow march, the abdication of King Edward VIII, the coronation of George VI, WW2 and the VE Day celebrations. Maureen says: "I wrote this book for my grandchildren. I've always told them about my childhood, and they have often said, "Why don't you write it all down?", so that's exactly what I did."

Candy Jar Publishing Co-ordinator, Keren Williams, says: "It is important to document our lives and the lives of our families, otherwise this information becomes lost. Old Clothes and Porridge is a personal memoir that the world will enjoy, and I'm certain Maureen's family will treasure. More people should be encouraged to write about their lives, even if it is just for their family."

Maureen agrees and would encourage others to write down their life stories. She continues: "Yes, I would and in fact I do. I know one woman who used to be a war correspondent and one man who had a brilliant military career. People have fascinating lives and they should be documented."

One of Candy Jar's most popular titles is Eileen Younghusband's One Woman's War, which offers a vivid insight into the life of a young woman facing the grim reality of war. Shaun Russell, Head of Publishing, says: "Old Clothes and Porridge reminds me so much of One Woman's War. As soon as I read it, I knew Maureen's story would touch hearts across the generations. This book is attention grabbing, well-written and also extremely funny. At this time of uncertainty this book is a joyous reminder how wonderful it is to be human. "

After being advised by her best friend's granddaughter of the benefits of being in control of the publishing process, Maureen decided to go with Jelly Bean. Maureen says: "It was great to receive an email from Shaun on 19th January and the books arrived on 19th March! And when you hold that book in your hands it's like having a new baby."

Overwhelmed by the support of her family and friends, Maureen is really delighted with the end product. She concludes: "I would like to send my gratitude to everyone who has read my book and for the lovely things they have been saying about it. I am so pleased that it now available on Amazon."

Old Clothes and Porridge is now available worldwide through Amazon. To order the book visit: https://tinyurl.com/ycybtlg3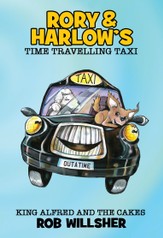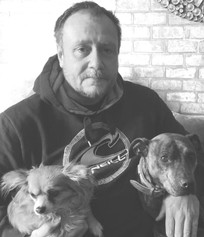 APRIL (7-12):
RORY AND HARLOW'S TIME TRAVELLING TAXI
KING ALFRED AND THE CAKES
By Rob Willsher
Illustrated by Patrick Coombes

Candy Jar is pleased to announce its second 'Book of the Month', Rory and Harlow's Time Travelling Taxi by Rob Willsher. Published with the help and support of Candy Jar's partner imprint Jelly Bean Books, it tells the story of two dogs, Rory and Harlow, and how they find a magical taxi that transports them back in time on a historical adventure of a lifetime.

In a recent interview, Rob explains how the idea for Rory and Harlow's Time Travelling Taxi was, in fact, more of a collaboration. He explained: "Many years ago I was a London cab driver. At the time we had some rescue dogs and on a few occasions I took one of the dogs, Toto, to work with me in the front of the taxi. That's when my wife Fiona came up with the idea of us doing a book about a dog that travels to historical places in London, or even all around the world!"

The book's target audience is four to eight and adheres to the National Curriculum for this age group. In the book, Rory and Harlow travel back in time and meet Alfred the Great, who defeated the Danes by sending messages to his officers, thus highlighting the importance of being able to read and write.

Rob states: "One of the greatest skills in life is the ability to read. Even if all you are reading is a tin of beans, it can take you so far in life. I hope I'm helping to encourage a new generation of readers."

Rob is currently working on the second book in the series entitled The Woman with the Long Red Hair, which focuses on Boadicea, who was bullied by the Romans over how much land she was entitled to after her husband's death, and is a topic that children can relate to.

Rob continues: "They are books that you can read to your child, or that your child can read to themselves. I gave Rory and Harlow's Time Travelling Taxi to a twelve to thirteen year old to read and he couldn't put it down, saying it was nice and easy to read, especially with the pictures. Even adults have said they've learned something from the book!"

Although currently published by Jelly Bean Books, Head of Publishing, Shaun Russell, says: "This book has a lot of potential and I can see lots of children and parents really taking an interest. The text is a mixture of fact and fiction and, paired with beautiful illustrations by artist Patrick Coombes, it is perfect for those who are just getting into reading. Once the Candy Jar schedule has cleared up, we are hoping to bring this book out as one of our own."

With the promise of becoming a Candy Jar publication in the near future Rory and Harlow's Time Travelling Taxi is sure to be a hit. Both entertaining and educational, the book will make a great addition to any bookshelf and is sure to give young eyes a workout!

For now Rory and Harlow's Time Travelling Taxi can be bought and enjoyed straight from the author. To order the book visit https://roryandharlows.co.uk/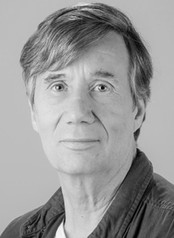 MARCH (8-12):
TIMESPLIT
By Paul W Robinson

Candy Jar is pleased to announce their new feature entitled 'Book of the Month', which aims to showcase new talent from their partner imprint Jelly Bean Books on a monthly basis. We will be publishing several categories. The first is children's 8-12.

Paul Robinson takes a small hiatus from his Charlie Holmes series to write Timesplit, a new novel following the adventures of Jenny Johnson. Over two stories, Jenny wakes up in the bodies of two very famous historical women. She must ensure that they are set back onto the correct paths to secure their future influences, and the success of humanity!

Mary Edith Pechey and Marie Curie were two of the most influential women of their times. Marie Curie conducted significant research on radioactivity as well as being the only person to win a Nobel Prize in two different sciences. Edith Pechey was one of the first female doctors in the United Kingdom and a promoter of women's rights. Both women were contrapuntal to the development of the human race, but what would happen if their lives were thrown off track?

Inspired by a writing exercise, Paul created Timesplit after receiving the prompt, "One day she woke up…" He combined this with his expansive knowledge of famous women throughout history – of which he has a list – in order to raise more awareness of their achievements.

Paul explains: "I am a strong believer in writing about important female characters. I want to readdress the balance between the genders while teaching younger girls about amazing, influential women."

Having taught young people for the past forty years, including working with those hard of hearing, Paul's main aspiration is to develop new role models in order to inspire his students. He aims to create more relatable and exceptional characters; Charlie Holmes is based on one of his deaf students, Charlotte.

Timesplit encapsulates adolescence in a realistic way, with a generous serving of miscommunication, humour, love and heartbreak. Paul will soon be featured in The Lucy Wilson Mysteries: Lockdown collection.

Timesplit is available for https://paulrobinsonbooks.onlineweb.shop/