Awards

The People's Book Prize is a national literary award voted for solely by the general public. Founded by Dame Beryl Bainbridge DBE, the award champions new talent and celebrates reading. Candy Jar has achieved great success in this competition; One Woman's War won the non-fiction 2012/2013 award and Kangazang! Star Stuff, Tommy Parker: Destiny Will Find You and Companions: Fifty Years of Doctor Who Assistants were shortlisted for the prestigious award.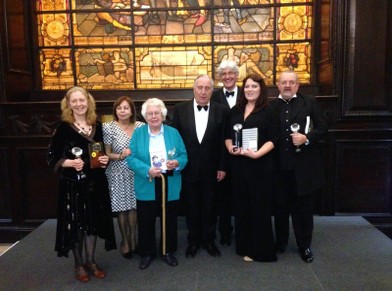 The Cardiff Life Awards celebrate the best business in Cardiff, applauding what they have achieved in the past year and encouraging them to go further in the years to come, and we've been lucky enough to be nominated in the Creative Business category. The awards are in partnership with Blue Parrot Company, Introbiz, and the #StayStrongForOws campaign, and is sponsored by some great names including Park Plaza Cardiff, Capital FM, Chapel Bar & Restaurant, Spire Hospital, Volvo, Enlightened, Pensord and Stills.

In May 2016, The Search for Mister Lloyd by Griff Rowland was chosen as the winner of the Tir na n-Og English-language Award. This award is sponsored by CILIP Cymru/Wales (Chartered Institute of Library and Information Professionals), and celebrates the best of fiction with a strong Welsh influence and background.

David the Pizzly Bear, one of our Jelly Bean books, has been awarded a red ribbon in the Wishing Shelf awards. Well done, Molly Arbuthnott and Camilla Seddon.

Helyn Latimer, who published Bully Goat Griff with our sister imprint Jelly Bean Books, has been awarded "Welsh Author of the Year 2022" at Smart Education Wales.

We are extremely proud of all our authors.