Companions: Fifty Years of Doctor Who Assistants by Andy Frankham-Allen

Think you know Doctor Who? Think again.

Companions: Fifty Years of Doctor Who Assistants is an in-depth account of each Doctor Who companion. This book examines each assistant's significance in the TV series as well as other Doctor Who media. Written by a true fan, Andy Frankham-Allen, the book also features a foreword by Gary Russell and afterword by David J Howe.

It will appeal to fans of Doctor Who: Whology, A history: An Unauthorised History of the Doctor Who Universe and The Discontinuity Guide.


"How could I know then that we would become a part of cultural immortality!" - Anneke Wills (Polly, 1966-67)

ALSO AVAILABLE ON KINDLE and UNTREED READS.

As seen in: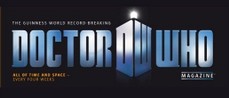 Reviews

"Frankham-Allen's style is engaging and enthusiastic, maintaining a pacey discourse throughout when it would have been easy to just provide a droning list... As the role of the companion continues to grow and develop within Doctor Who, on screen and off, there's a sense that this is just the beginning of a work that is ripe for updating in a few year's time. Let's hope that Andy Frankham-allen is already working on volume two." – Mark Wright, Doctor Who Magazine

"Companions is a very thorough volume and consequently suited to the more dedicated fan. We found it fascinating to see all the touches that have been added to our favourite characters over the years and it really motivates us to catch up on some of the non-television adventures we have missed!" – Ian McArdell, Cultbox

"A well-written and thoroughly detailed book by a writer that clearly knows their stuff when it comes to Doctor Who... an effective and important guide to many of the people who have helped the Doctor save the universe so many times." – Meredith Burdett, Kasterborous Online

"Companions: Fifty Years of Doctor Who Assistants is a thorough and fun read for the die-hard Doctor Who fan; if you've spent ages debating exactly how many grandchildren Jo Grant has or what exactly happened to poor Peri, then this will thoroughly entertain you." – Starburst Magazine Online


Interview




About the Author



Andy Frankham-Allen, Welsh-born, spent his formative years in London. His passion for writing began with a love of Doctor Who and he's been writing as long as he can remember. He's been working professionally since 2004 and his work includes short stories, novellas, novels and audio dramas for such franchises as Doctor Who, Space: 1889 and The New Counter Measures. He is also the creator of The Garden series of novels, although the second book in the series is still unfinished (despite demand for it!). He is also the range editor of the Lethbridge-Stewart series.