The Lethbridge-Stewart Short Story Collection - Limited Edition

Brigadier Alistair Lethbridge-Stewart is back in a new collection showcasing the best talent from the South Wales Short Story Competition.

WINNER ANNOUNCED!

Candy Jar Books is pleased to announce the winner of the Lethbridge-Stewart Short Story Competition. The winning story, Gone Fishin', is written by Megan Fizell from Maine, USA.


Shaun Russell, head of publishing at Candy Jar, says: "Megan has written a wonderful story that took us all by surprise. Her instinct for characterisation is refreshingly different. In particular, we liked the way she portrayed the burgeoning friendship of the Brig, Sally, Anne and Bill. We look forward to working with her in the future."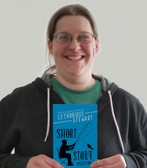 The book includes eight exclusive short stories featuring Alistair Lethbridge-Stewart at various stages in his life. This is a chance for fans to see the Brigadier like they've never seen him before!


The eight stories are:
Day Trip by Alan Darlington
Marooned at Teatime by Ryan Fogarty
Give Me Five Minutes by Mike Warrick
The Devil and the Deep Blue Sea by James Connarty
The Eye of the Beholder by Gary J Mack
Summertime Blues by Alexander Whittam
The Mystery of the Locked Room by Beau Waddell
Nightmare at Lavender Lawns by Bedwyr Gullidge



Available to pre-order!



Fully licensed by the Haisman estate, and featuring concepts and characters created by Mervyn Haisman and Henry Lincoln, the Lethbridge-Stewart Short Story Collection is a must for fans new and old.

Customers are advised that this book will be a limited edition release, only available to purchase directly from Candy Jar Books for £8.99 and with limited copies available.