Lethbridge-Stewart: Travers and Wells - Other Wars, Other Worlds by Robert Mammone

"For a time I believed that mankind had been swept out of existence, and that I stood there with my friend, Edward Travers, the last men left alive."

Edward Travers, pulled out of time by a mysterious force, finds himself on a hill with a young man called Herbert George Wells. Together the men travel across England, intent on discovering where they are; a world distinctly different from the one they know. And yet, for Edward Travers, it is one that seems vaguely familiar...

For strange, meteor-like objects have landed in the heart of England, and the inhabitants of Earth have found themselves victims of a terrible attack. A ruthless race of Martians, armed with heat rays and poisonous smoke, is intent on destroying everything that stands in its way.

Only things have not turned out the way Travers' expected, for this is not the war of the worlds HG Wells wrote about, but something much worse.


Lethbridge-Stewart: Travers and Wells - The City of Dr Moreau by Andrew Allen

"Wells blinked a couple of times, balling a fist into his eyes to rub away the sweat trickling there. But it was no good; the room was too dark and he still couldn't see anything. Nonetheless, he was painfully aware that someone – something – was in the room with him. He heard a snuffling, a guttural breathing, and the thing moved closer."

Edward Travers and HG Wells are flung once again into an alternative reality: a London both achingly familiar and quite unlike the city either of them know. In the dying days of the Edwardian empire, public protests over the increasing use of vivisection in animal research collide with rising fears about looming war.

Connecting both is the mysterious Dr Moreau. Wells is fascinated by the accomplished scientist, but Travers is horrified by the dark truth of the man that he previously had believed to be mere fiction.

As the two men begin to discover the purpose behind their adventures out of time and come face to face with who is controlling their journey, they pursue Moreau to the inevitable conclusion: his very own island of creation, a perverse garden of Eden that's very close to home…


NB: These Travers and Wells books are not included in any subscription or multi-book deal. These books are currently only available to pre-order!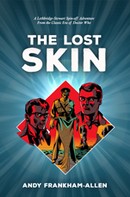 The Lost Skin by Andy Frankham-Allen
Brigadier Lethbridge-Stewart is on leave in New York, but in Scotland word reaches the Fifth Operational Corps that Harold Chorley, journalist and pain in Lethbridge-Stewart's rear, has got wind of the Corps' presence in Stirling.


25/01/21 - TRAVERS AND WELLS: THE CITY OF DR MOREAU IS NOW BEING EDITED. ONCE THIS IS COMPLETED IT WILL PROOFED AND SENT TO THE PRINTERS. WE WILL KEEP YOU UPDATED.