Lethbridge-Stewart: Lineage


The Lethbridge-Stewart name carries with it stories of integrity, honour and courage. But was it always so?

From its earliest origins with the Clan Stewart in Scotland, and the Lethbridges in Devon, England, the name has a storied past. Historical figures, history makers, miitary heroes…

Lineage presents seven brand-new tales from some of the most popular authors preciously published in The HAVOC Files collection, as well as one from the creative mind of writer and film maker Chris Lynch.


The Soothsayer by Richard Dinnick
William Stewart and Mary Lethbridge discover that a mysterious stranger is intent on stopping their wedding and diverting the course of history – at any cost! [Set in 1603]

The Bone Merchants by Andrew Allen
On the blood-soaked battlefield of Waterloo, Fergus Lethbridge-Stewart is a man of integrity and reason, not given to sharing the superstitions of his men - until he witnesses unearthly lights and the screams of the dead. [Set in 1815]

As the Son Falls by Wink Taylor
Young idealistic teacher Percy Lethbridge was born into a well-regarded and much-honoured family, but soon learns the true horror that comes with failing the family name. [Set in 1890]

Paperman by Harry Draper
Thirteen-year-old Alistair Lethbridge-Stewart and his mother seem to have moved on from their past - only to be haunted by their future. [Set in 1943]

Inheritance by Gareth Madgwick
Matthew Lethbridge-Stewart finds more than he bargained for when he claims the ancestral home in Scotland. [Set in 1971]

Acceptance, and then Understanding by Andy Frankham-Allen
Conall Wilson knows his grandfather, Sir Alistair Lethbridge-Stewart, hasnt long left, and so wants to give him the best possible Christmas gift he can. [Set in 2011]

The Arcade of Doom by Chris Lynch
While visiting a local arcade Lucy and Hobo stumble upon a monster from the classic era of Doctor Who. [Set in 2018]

Plus:
Whats Past is Prologue/The Note by David A McIntee/Andy Frankham-Allen
A shameful family secret is brought to the surface. [Set in 1917 and 1945]

Based on characters created and inspired by Mervyn Haisman & Henry Lincoln.

With a foreword by Richard Dinnick.



Other releases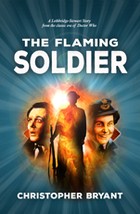 The Flaming Soldier by Christopher Bryant (Series 1 Book 2)
Traumatic events from the Second World War impact upon the present day and a mysterious aircraft could hold the key to the identity of the flaming soldier.